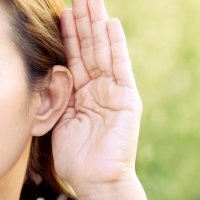 Did you hear me?
by Pastor Evelyn Peak | April 3, 2019
Did You Hear Me?
Maybe your mind goes back to hear your parents saying those words to you!!
There were a few other sentences, especially my momma, would say to me.
"Are you paying attention to me?"
"I told you once, do I need to tell you again?"
"You better not forget what I just told you!"
"And I mean it!"
"Did you hear what I just said?"
Or my most used phrase to the boys, ""You look me in the eyes!"
"Hear me!" How many times in scripture has God spoken to us and we didn't listen or we didn't pay attention. Through the course of life we've all found ourselves saying, "If only I had listened." I can't tell you the times I've wished I had listened in many situations. More importantly the times I wish I would have been much more attentive to the Lord!
Life is short, life is precious, there isn't a second go around, Harken to (listen, hear) His voice. It is a dangerous thing to turn a deaf ear to what the Lord has to say to us
""Now then, my children, listen to me; blessed are those who keep my ways. Listen to my instruction and be wise; do not disregard it. Blessed are those who listen to me, watching daily at my doors, waiting at my doorway. For those who find me find life and receive favor from the LORD."
Proverbs 8:32-35 NIV
Christ is Wisdom, and He is Life to all believers. ( Matthew Henry commentary notes)
"My sheep hear my voice, and I know them, and they follow me." John 10:27
"Therefore we must pay much closer attention to what we have heard, lest we drift away from it." Hebrews 2:1
"This is what the LORD says— your Redeemer, the Holy One of Israel: "I am the LORD your God, who teaches you what is best for you, who directs you in the way you should go."
Isaiah 48:17 NIV
It is good to be back with you again, to "echo" my thoughts. Why do I call this Echo's from Ev?" It's simply a reverberation, a reflection or a ringing from my heart to yours. Maybe in some way as I share my heart my thoughts might lift you up, encourage you, or maybe give you a chuckle.
Until next time.....remember, I love you!